Ingeborg G. Pluhar
Biography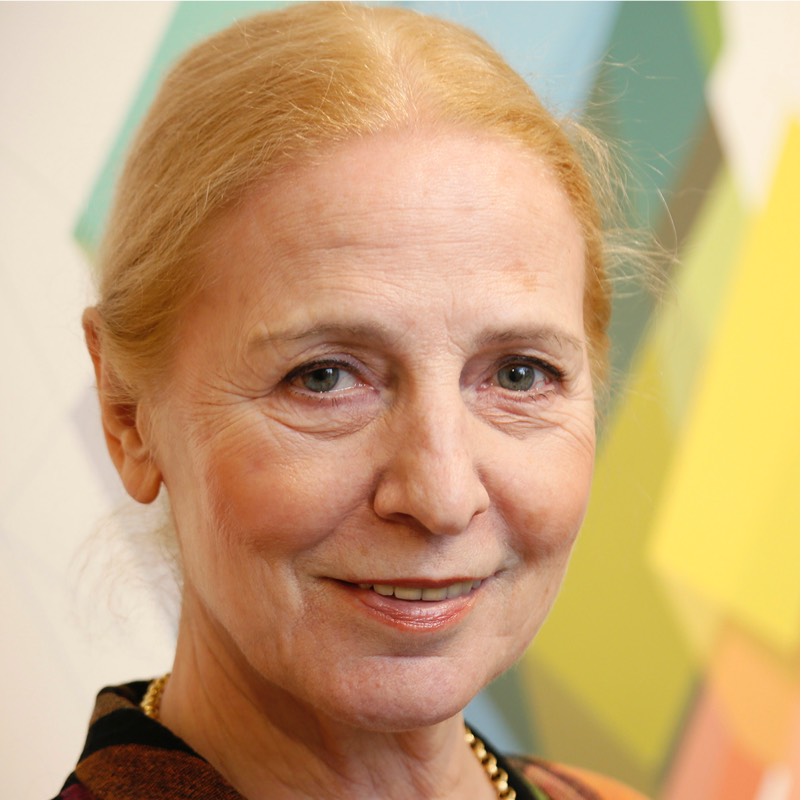 1962–1966
sculptural training at the Academy of Fine Arts Vienna, masterclass of Prof. Fritz Wotruba.

During her studies, she attended the summer academy in Salzburg twice (painting class under Oskar Kokoschka and sculpture class under Joannis Avramidis) and took part in Karl Prantl´s sculpture symposium in St. Margareten / A.

1966/67
Paris-scholarship at the École des Beaux Arts / F

1969/70
Residency in Berlin / D

1979
Assistant at the Institute for Artistic Design, TU Vienna (University of Technology)

1980-1992
Lecturer for the subject "photo and graphics", TU Vienna

1990-2003
Assistant Professor Institute for Artistic Design, TU Vienna
Lives and works in Vienna.
2012 Award of the City of Vienna for fine arts
Member of:
Wiener Secession (Vienna Secession)
Works held by various private and public collection:
(Selection)
Albertina Wien
AKH Vienne
Österreichische Galerie Belvedere
BMUKK
Lentos Kunstmuseum Linz
Neue Galerie Graz
Österreichische Nationalbibliothek / Haus der Geschichte Österreich
Sammlung Ettl
Sammlung Liaunig
SAMMLUNG VERBUND
Stadt Wien
Österreichische Nationalbank
Volksbank
some private collections
Exhibitions
Solo exhibitions
(Selection)
2019
Art Vienna (with Roland Goeschl) zs art galerie, Vienna / A

2018
Unterwegs, zs art galerie, Vienna

2012
Jennersdorf, EXPOSITION.AT, Jennersdorf / A

2005
Kunsthalle Exnergasse, Vienna

1994
Genovevaburg, Mayen, Rheinland-Pfalz / D

1994
Österreichische Galerie, Belvedere, Atelier beim Ambrosi-Museum

1993
Prechtl-Saal of TU Vienna

1992
BAWAG-Foundation, Vienna

1985
Galerie Würthle, Vienna

1978
Modern Art Galerie, Vienna

1976
Galerie Christian Brandstätter & Co., Vienna

1975
Galerie Nächst St. Stephan, Vienna

1974
Galerie Christian Brandstätter & Co., WienVienna

1970
Forum Stadtpark, Graz

1966
Galerie Nächst St. Stephan, Vienna

Group exhibitions
(Selection)
2023
Raum(un)möglichkeiten; zs art galerie, Vienna

Feminale 23; zs art galerie, Vienna

Public Matters, Belvedere Garden, Vienna

2022
Collage II; zs art galerie, Vienna

UNE AVANT-GARDE FÉMINISTE de la COLLECTION VERBUND; Les Recontres de la Photographie d'Arles / F (C)

Feminist Avant-Garde; SAMMLUNG VERBUND, Museum of Contemporary Art Vojvodina, Novi Sad / SRB (C)

Amazons of Pop! Woman artists, superheroines, icons 1961 – 1973; Kunsthaus Graz (C) / A

2021
Avant-Garde and the Contemporary – The Belvedere Collection from Lassnig to Knebl; Belvedere 21, Vienna

Female Sensibility. FEMINISTISCHE AVANTGARDE from the colltection VERBUND; Lentos Kunstmuseum, Linz / A

2020
THE BEGINNING, Kunst in Österreich von 1945 – 1980; Albertina modern; Vienna / A (C)

zselection, zs art galerie, Wien

FEMINISTISCHE AVANTGARDE, MADE IN AUSTRIA, collection VERBUND, Vienna

2019
Kopf-Variationen, zs art galerie, Vienna

2018
Aufbruch ins Ungewisse - Austria since 1918, Haus der Geschichte Österreich, Vienna

Die Collage, zs art galerie, Vienna

2015
WortBilder, zs art galerie, Vienna

2014
5 Jahre zs art galerie Wien, zs art galerie, Vienna

2013
Geometrie beredter Stille, zs art galerie, Vienna

2011
Franzi´s multiple choice", Muzej Premoderno Umetnosti / SLO

2008
Matrix (Geschlechter/Verhältnisse/Revisionen), MUSA, Vienna

Bildpolitiken", Salzburger Kunstverein, Salzburg

ViennArt: "Entscheidungen. Wien und das symbolische Kapital", MUSA, Vienna

2007
Happy Birthday Monsignore!, domMUSEUM, Vienna

Herbstausstellung 2007, Galerie 16, Vienna

2006
Type Faces, Museum, Waidhofen/Ybbs / A

3 Generationen - Regionen, Burg Schlaining, Burgenland / A

NÄHE FERNE, Deutschvilla, Strobl

Einblicke, Europäische Zentralbank, Frankfurt am Main / D

2005
Zu Zweit, Galerie Altnöder, Salzburg

2004
Gegenpositionen. Künstlerinnen in Österreich 1960 - 2000, Museum Moderne Kunst, Passau / D

2003
Künstlerinnen. Positionen 1945 until today, Kunsthalle, Krems / A

1989
Graphikmappe, Secession, Vienna

1981
Foto und Grafik, Technische Universität Vienna

1979
Konzepte, Secession, Vienna / The members of the Vienna Secession, Vienna

1978
Secessionistinnen 1978, Secession, Vienna

1975
Lengenfeld, Schloss Lengenfeld / A

1966
accrochage, Galerie nächst St. Stephan, Vienna

1965
Plastiken im Stadtpark, Vienna

Europäische Plastik, Den Haag / NL

1964
Geist und Form, Vienna

Literary work
2002
Her novel "Paradox" is published by Mandelbaum Verlag, Vienna

1995–2000
Working on the manuscript of a new novel

1983
Her novel "Leopoldstag" is published by Christian Brandstätter publishing house, Vienna
Ingeborg G. Pluhar's abundant artistic life starts in the master class of Prof. Fritz Wotruba at the academy of fine arts vienna in the early 1960s.
She soon emancipated herself from the figural mandate and henceforth engaged in a sophistical reflection on the little trivialities along the path of life. She finds her motifs in snapshots, images and texts, and she then shapes their meaningless aesthetic into new meaning. The results consist of collages, paintings, theatrical designs, drawings and poetry.
The work of Ingeborg G. Pluhar surprises us with its many-faceted reflections on everyday culture. Her immediate surroundings, trivial everyday life, always form the sources of inspiration for her series of works. "What is it about these seemingly inconsequential and – for us – meaningless motions, uttered sounds, letters and images that the conveyor belt of a single day pushes past us?" She asks this question in one of her letters to "Kunstl", a fictional figure whose name is an affectionate diminutive form for "art" and who represents an expansive, completely indeterminate concept of art.